A Strong Dollar in Europe
by Rudy Maxa for Marketplace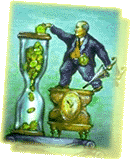 It's been seven months since the euro was introduced in 11 European countries. Rudy explains why it'll save you money if you're headed across the Atlantic right now.
First of all, it depends which country you're visiting. The most popular destination for American tourists is England, and it HASN'T jumped aboard the euro train yet. But most other European countries including France, Italy, Spain and Germany did adopt the euro at the start of this year. And fortunately for Americans, the value of the euro has dropped sharply against the dollar. On January fourth, it took $1.19 to buy one euro; today it only takes about $1.05 to buy one.
Now, keep in mind that there are no euro coins or bills in circulation yet. But countries that adopted the euro have linked their currencies to its value. When the euro slips against the U.S. dollar, so does the franc, peseta, lire and mark. When you use a credit card, your bill will be expressed in euros. This is very good if you happen to be paying your credit card bills with dollars.
How else can you use the decline of the euro to your benefit? Well, if you can buy your airline ticket overseas, you'll pay less. Consider a round-trip, business class ticket between Chicago and Paris. Buy it here, and it'll cost you about $7,400. But let's say you bought the return portion of your ticket in Paris, where your purchase will be pegged to the euro. The total cost will be $1,200 less! If you can arrange to buy the entire ticket in France, you'll save a whopping one-third off. Want to save $3,000 on that ticket? Buy it in Canada and fly to Paris out of Toronto. Then you take advantage of the very weak Canadian dollar. Plus you get a first-class seat on American between Chicago and Toronto. So how do you buy U.S. airline tickets in a foreign currency? Well, you can purchase them abroad or access the European web sites of airlines and buy tickets with a credit card. That way you'll be billed in euros, not dollars.
Now, remember a few weeks ago that I told you credit card companies were quietly increasing the fee they charge for converting foreign currencies into dollars. Try to use cards that only charge one per cent. If you carry a card issued by Providian, leave it at home. That bank charges the most: five percent to convert currencies. In the one percent category are Diner's Club and cards issued by Chase Manhattan, Bank of America, and Capital One. Citibank stands at an unattractive three per cent.
Remember, you won't find these euro savings in non-euro countries such as England and Switzerland. But most of the rest of the continent is marked down, so go, spend, and save.