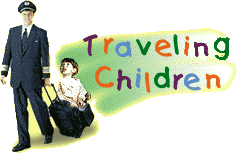 With summer travel approaching, more and more children will be flying on their own. Or visiting foreign countries with parents. Keep in mind, recommends our Savvy Traveler, Rudy Maxa, that just because you're traveling, doesn't mean you shouldn't observe the same safety precautions you would at home.
Traveling Children
by Rudy Maxa for Marketplace
It might surprise you to know that you could send a child as young as five years old alone on some airlines. American, for example, charges a $30 unaccompanied minor's fee each way for children after they turn five. In the best of all possible worlds, the ground staff will watch your kid closely to make sure he gets on the flight, makes the right connection, and that the right person is there to meet him on the other end.

But airports are crowded, confusing places. Heck, I often see adults wandering around terminals totally befuddled. And I have heard horror stories of kids who have gotten lost in the shuffle, stranded in an unfamiliar airport when their connection was canceled or delayed. In a strange place, perhaps incapable of making a long distance call, a child can panic. Bad things can happen.
If you need your child to fly alone, try to get a non-stop flight, or at least a direct flight that may stop but doesn't require a change of airplanes. Don't leave the gate until your child is on board and the door of the plane is closed. And make sure you have a plan if the person who's supposed to meet your child on the other end isn't there when the plane lands.
If your summer travel plans include foreign countries, keep a couple of things in mind. The problem of non-custodial parents abducting children and taking them abroad is on the rise. That's according to Nancy McBride at the National Center for Missing and Exploited Children. So if you're a single parent traveling with a child, it's smart to keep a notarized letter of permission from the other parent with your child's passport. Mexico, for example, requires that - even if you're not divorced but simply traveling without your spouse.

If you're visiting a new place with your children, have a back-up plan in case you get separated. A hotel. A nearby landmark. Make sure younger children carry something listing their names, addresses, and emergency contact numbers. More than once, I've lost one of my kids in the big F.A.O. Shwartz toy store in New York City.
Teach your children how to make calls from pay phones. If you're overseas, make sure they have some local currency in case they need to take a taxi back to a hotel. Make sure they know the name and address of that hotel. And while talking to strangers may be fine while on the road, make sure you're around when your kids are doing it. Remember, the rules are a little different when children are involved.
British Airways Skyflyers
Northwest Airlines
National Center for Missing and Exploited Children