Travel is all over the Internet -- you can buy tickets and bid on vacations. Our Savvy Traveler, Rudy Maxa, has some advice, however, on what sites are worth visiting and how to avoid getting cyber-burned.
Web Travel Sites
by Rudy Maxa for Marketplace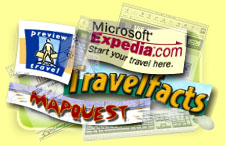 According to a company that monitors web usage called MediaMetrix, these are the top five travel web sites on the Internet: AOL's Travel Channel, mapquest.com, previewtravel.com, expedia.com and its Microsoft sister, sidewalk.com. But those are just the tip of the iceberg. Every major airline has a web site -- American's and United's are the most frequently visited, says MediaMetrix -- and there are hundreds of other sites offering deals.
The problem with travel sites is that, like computers, they're not easy enough to use yet. You have to wade through too much stuff to find out who the heck flies between Detroit and Dallas. It took me four clicks on AOL's Travel Channel, for example, to be able to enter a departure and arrival city. Three times the system froze at exactly that point. And I really hate having to register before being able to get basic information. Which AOL and others make you do.
After registering as a member of Expedia, it only takes two clicks to find schedules and prices, making it one of the easier sites to navigate. In the interest of full disclosure, I should say Expedia is an underwriter of The Savvy Traveler program.
American's web site is good, but you need a frequent flyer number to use it. United doesn't require that.
The important thing to remember is that not all sites are designed to do the same thing. If you use priceline.com to bid on an airline ticket, remember, when you register to make a bid and give your credit card number, you're committed to buying a ticket if Priceline can meet your bid. You have no say in what airline you'll fly, how many stops it will make, or whether you'll depart at 6 A.M. or 6 P.M.
Then there are offerings like vacations on sites like bid4travel.com. But I visited it the other day and found hotel rooms in Mexican resorts whose bid dates expired a month ago. The most important thing to keep in mind when bidding or buying on line is that you should always use a credit card. That way, if what you receive isn't what you expected, you can refuse to pay your credit card charge. The alternative is to use an on-line escrow service; they hold your money until the seller delivers what was promised. No reason to give the phrase "going, going, gone!" a whole new meaning.
I've said this before, but it bears repeating. Just because something is on-line doesn't mean it's the best deal. For airline, hotel, and rental car rates, shop around by calling an airline, hotel or rental car company directly. A travel agency that specializes in cruises might be able to get a better price than you can ever find on your own. Some travel agencies that do a lot of business with a particular airline can negotiate discounts or upgrades, too.
There will be a day when every travel web site will clearly display all pricing and scheduling options. You'll be able to comparison shop and order with a couple of simple keystrokes. But that day isn't here yet.
I'm Rudy Maxa, the Savvy Traveler, for Marketplace.