Passenger Bill of Rights
by Rudy Maxa for Marketplace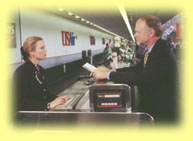 Let's start by saying that flyers have very few rights. Most of us think that if a snowstorm delays our flight, the airlines owe us something, like a hotel room or at least a meal. Not true. Now, sometimes they do deliver a few perks, but, technically, about the only things airlines must do is pay us if they lose a piece of luggage and bribe us with a free ticket or some cash if they overbook a flight.
Now comes Senator Ron Wyden, an Oregon Democrat, and Senator John McCain, a Republican from Arizona, with a new passenger bill of rights. Among what most airlines would consider heretical proposals are these:
That an airline tell us how many seats on a flight are allocated to frequent flyer award holders.

That you be told ahead of time if a particular flight is overbooked when the airline makes your reservation.

That you actually be told why a flight is canceled or delayed.

That you be told what other passengers are paying for their tickets. (Yeah, right! If everyone on a flight stood up and revealed the fares they'd paid, pandemonium would break out--the disparity would be that shocking.)
When I talked to Senator Wyden about it, he told me he and his colleagues have a couple of gripes with the airlines.
Wyden: Senator McCain and I feel the passenger does have a right to useful information about frequent flyer miles. And the fact of the matter is that the kind of proposals Senator McCain and I are making in our bipartisan legislation are the kind of thing that's expected from the corner grocery store or the neighborhood movie house. Your corner grocery store can't lure you in with the promise of being able to buy a particular product at a particular price and then snatch it away from you because they suddenly found somebody else who will pay a higher price.
Well, the senator is right, but then again, there are usually a few grocery stores around. Sometimes there's only one flight at the right time to the place you need to go. So you quickly forget that bargain basement fare and accept a higher one.
Does any of this bill of rights have a chance of passing? Well, the part about being told why a flight is canceled or delayed is possible. The number of award seats? Maybe, but that number changes all the time. Telling passengers they're being booked on a flight already full? That could pass, though the airlines will fight it. Telling you what everybody else is paying on the plane? Wow. That would revolutionize the business. Which is why it probably won't happen.
There was one thing I wish the senators had included on their wish list: That when they announce sales, airlines print the round-trip price instead of a one-way fare with small print saying "round-trip purchase required."
Now, that would be a giant step forward.