Where Airlines Are Spending Money
by Rudy Maxa for Marketplace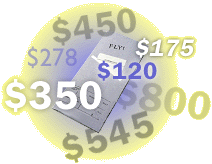 Money is the way to get the attention of politicians. And according to a report yesterday by the Center for Responsive Politics, a non-profit research organization, the country's big airlines spread a lot of it around last year.
Why? Well, most of us aren't paying attention to it, but there's a gigantic struggle going on that may determine how much you pay for airline tickets for years down the road. And so six of the largest airlines spent about $8 million lobbying politicians in the first half of 1998--that's 42% more than a year earlier. What's going on?
At issue is how the big airlines treat low-cost competitors. The only places where airfares haven't dropped since deregulation are in those markets less than 750 miles apart where there's no low-fare competition. Consider these stats from a Transportation Department study. It's 198 miles between Philadelphia, Pennsylvania, and Richmond, Virginia. The average one-way fare at the time of the study was $259. It's exactly the same distance between Ft. Lauderdale and Tampa, where the average one-way fare was $58.
Why the huge difference? Because US Airways has 98.8% of the market between Philly and Richmond; between the Florida cities, Southwest competes with Continental. It's 264 miles between Chicago and Cincinnati, a market dominated by Delta. Average one way fare: $261. But the average one-way fare between Chicago and Columbus, Ohio, is only $82 because Southwest and America West fly that route.
The Transportation Department has suggested guidelines to foster competition. Bascially, if a new airline enters a market and the dominant carrier lowers fares and increases capacity just long enough to drive the new guy out of town, Uncle Sam would consider taking anti-competitive action. When Spirit Airlines began competing with Northwest by flying between Detroit and Philadelphia in 1996, Northwest dropped its fares in the $325 range to match Spirit's $50 to $75 fares. It took a year before Spirit gave up the ghost (but they are still flying to other cities). After which Northwest promptly jacked its fares up to around $375 one way.
The airlines say if such rules go into effect, it'll mark a return to re- regulation which will mean higher fares everywhere in the future. And that's why they're shoveling so much loot to politicos, in the hope that when these rules are sent to Congress in the spring, politicians will be inclined to block their implementation. Folks who need to fly between Richmond and Philadelphia, among other places, hope that in this case, money doesn't talk.