Falling prices on Airfare
by Rudy Maxa for Marketplace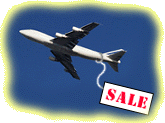 It was, indeed, one wretched holiday travel season. There are still passengers who haven't been reunited with their luggage after being tangled in that winter's mess New Year's Eve weekend (when Detroit, Chicago, and other airports had to shut down). Airline employees confide that bags are still stacked up at airports, and it could be days until they're sorted out.
Meanwhile, nothing stops the sales, as airlines try to fill seats during January and February when no when wants to get on a plane. Take the ol' SavTrav, for example. I'm flying round-trip, non-stop between my hometown of Washington and Marketplace world headquarters in Los Angeles for $200 plus change in a couple of weeks. Normally that ticket would cost closer to $350.
Two weeks ago, Virgin Atlantic had a five-day sale offering New York-London tickets for $198 round-trip. You can still do it for less than $300.
Air France has never offered flights to Paris from North America for less. Check this price out: $248 roundtrip from the northeast if you fly mid-week and book by January 23rd. These low fares are why almost as many Americans are visiting Europe is what used to be called the off-season as in summer.
Heck, if you live in LA, you can do this weekend in London for only $299 roundtrip on American!
What other locations are on sale? Well, all of Canada, thanks to the strong U.S. dollar -- everything is about 40 percent less if you buy it up north.
Qantas and Cathay Pacific have deals to Australia and Asia, though Japan is getting more expensive because of a resurgence in the value of the yen.
Eastern European spots, like Budapest, are much cheaper than Western European cities.
Domestically, Kansas City-based Vanguard just kicked off a sale offering a $29 fare on any of their non-stop flights except to Denver. The airline serves, among other cities, Atlanta, Pittsburgh, Dallas, Chicago and Minneapolis. There's a ten-day advance purchase requirement, but you have to buy your ticket by next Monday and complete travel by March first.
Keep in mind that when you read about a sale, there are limited number of seats available. But try this: Call a competing airline. Most airlines don't advertise it, but they drop their prices when a competitor announces a sale on a specific route.
Now, if you're a real cheapskate and don't want to spend even $300 to get to Europe, here's a way to get there free. Buy a car. Most European car makers will fly you over if you participate in their overseas buying program. Until the end of March, for example, Volvo will fly you to and from most major European cities if you'll buy one of their sporty S70 models. Fly into Sweden, they'll buy you lunch at the company dining room.