Airline Report Card
by Rudy Maxa for Marketplace
Let's start the way my teachers used to begin: Before they told me how I really wasn't working up to my potential, they'd tell me some good news.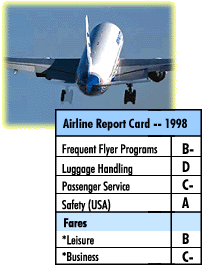 So here's the good news: In the subject of frequent flyer programs, the airlines get a B-plus. They haven't raised the threshold on the most popular rewards in a while, and the trend toward alliances is making it easier to accumulate miles and use them to fly different airlines. You can use your United miles on Delta and vice versa. Ditto American and USAirways.
And American has begun something that will warm the hearts of business travelers-- an automated upgrade system for its most frequent flyers. Gold and platinum Aadvantage members can request an upgrade when they make a coach reservation. American's computer system will automatically process that request the second a passenger becomes eligible--24 hours before a flight in the case of a gold Aadvantage member, 72 hours before for a Platinum member. Before, you had to remember to call in and make the request. Hopefully, other airlines will play copycat.
Now for the bad news. I give the airlines a D for luggage handling. As they've cracked down on carry on luggage, they've disappointed in the checked- baggage category. It's taking longer for bags to be delivered, and more bags are being misrouted as the luggage system gets overloaded.
Passenger service, too, disappoints. I give it a C-minus. Blame it on crowded planes. Frankly, I don't know how ticket agents and flight attendants, who are all underpaid in my opinion, bear up to their jobs. We've all heard passengers yelling at them, often for events out of their control. But there's also the occasional employee who forgets it's the customer who pays his or her salary. I wish the airlines would spend more time training staffers to be diplomatic and avoid conflict.
In the important category of safety, US-based airlines get an A simply because of the lack of accidents recently. Whether aircrafts are safer than ever to fly, I don't know, but the recent record is encouraging.
Fares. Give the airlines a B when it comes to leisure fares. After all, leisure travelers can still fly cheaply, as long as they're connecting to major cities. Fares to Asia plunged this year, and winter fares to Europe look as if they'll be as inexpensive as they were last winter. But business fares continue to increase, so I give the airlines a C-minus in that category.
The trouble spot on the horizon? These new alliances. They're all the rage. Yes, some schedules will be streamlined and the reciprocity of frequent flyer programs and airport club usage should benefit passengers. But in the long run, the alliances may lead to less competition and higher fares. If low- cost airlines are driven out of markets by the big boys, then the major carriers won't much care what kinds of grades we give them, will they?