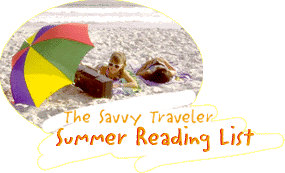 We don't know about you, but travel gives us the opportunity to do something we rarely have the time to do at home...read. Nothing like a long flight or a delayed flight to finally dive into that new novel. Remember when you were a kid and your teacher would give you a summer reading list? You moaned and groaned at the time but we bet we're not the only ones who'd welcome a few good recommendations for some lazy days by the pool. So we've developed our own Savvy Traveler summer reading list. Send us your recommendations for summer reading, and browse on to see what other listeners had to say.
I recommend West With The Night by Beryl Markhan, about her adventures as she carried mail, passengers, and supplies in her small plane to remote corners of Africa from 1931 to 1936. Well written (recommended by Ernest Hemingway) and a delightful read.
Pollyanna
Memoirs of a Geisha, one of the most compelling stories I've read in a long time. The perfect book to transport you to a completely different time, place, and culture. Once I started reading, I couldn't stop - just the sort of experience suited to a vacation, where one moment seems to ease seamlessly into the next and there are no demands to do anything at a particular time. My only reservation -- it could be a "chick book."

Alice
Summer reading depends on where you're going and what you're doing on vacation or at home.
Last summer I read Le Divorce by Diane Johnson in Paris -- divine in context! Then The Green Fool, poet Patrick Kavanagh's story of his rural childhood in early 20th century Northern Ireland, as I poked around Eire. I'd already given away two copies of this book, not in print in the U.S. -- it was as absorbing as the first time I read it 25 years ago.
If you're not really a reader, don't take The Brothers Karamazov to the beach! Buy a bunch of magazines and relax.
If you are a reader, you'll want something that engages you. My book club's favorite so far this year has been Body and Soul by Frank Conroy. A big, lush coming of age story -- how can you go wrong?
Of course, books can take you places as well. Many mystery novels have exotic settings. Nevada Barr has written a series featuring Anna Pigeon, a National Parks Service ranger, for instance. Elizabeth Peters' Amelia Peabody series is a course in Egyptology -- and absolutely hilarious. Amy Tan will take you to China, and so on, and so on.
I love the novels of David Lodge -- his Changing Places is a classic look at 1960s academia in England and Southern California. Paradise News is a tender, quirky love story set in Hawaii. Therapy takes you on a pilgrimage to Santiago de Compostela.
Potential visitors to my home state of Minnesota should pick up Staggerford by Jon Hassler.
Last but not least, The Accidental Tourist by Anne Tyler is on my personal top-ten list. The protagonist writes travel guides for those who'd rather stay home. He's transformed by the love of two good women and a cranky dog.
And this is only contemporary fiction. There's so much other great writing out there -- nonfiction and travel writing, for instance, like Mary Taylor Simeti's On Persephone's Island.
So many books, so little time -- let's all take the summer off!
Mary
Two of the best beach books I have read in recent years are fishing related. Both are relatively short books. One is a novel; the other is non-fiction.

The novel is John Hersey's Blues. It's the story of a two men on Martha's Vineyard, one a fisherman, the other a landlubber who meet. The fisherman offers to take the other with him for an afternoon of fishing. The fisherman describes the local landscape and the natural history of the area. At the end of the expedition they go back to the fisherman's house and cook up the fresh catch for dinner. There is a description of the cooking methods used, not quite a recipe, but close enough you could duplicate it.

Subsequent chapters describe additional expeditions of the two fishermen and go from spring throughout the summer and fall. There are remarkable descriptions of the character of bluefish, which are rather bloodthirsty and viscious, and the fishing techiques used to catch them. The fish themselves become characters of the book as their habits and characteristics change with the seasons and water temperatures.

The two men, who are never named, develop a friendship based on their fishing trips, but it is not the focal point of the book. The development of the narrator, the landlubber, and his appreciation for the ocean, and the creatures in it is well-crafted and does not bludgeon the reader with politically-correct conservationist tones. Blues paints a remarkable picture of the Martha's Vineyard waters and landscape and whets your appetite for some fresh cooked bluefish.

The non-fiction book I recommend is called Cod: A Biography of the Fish that Changed the World. The author is Mark Kurlansky. This book gives a history of cod fishing primarily in the north Atlantic, beginning with the Vikings and ending with the Canadian- American fishing wars of the 20th century. It discusses how the cod fishing industry affected several countries and their economic development. But Kurlansky keeps the story from being an economic treatise and makes it a worthy beach read by including fishing lore and recipes. The collapse of many of the commercial cod fishing regions due to overfishing is the more sobering aspect of the book. Nevertheless, clear prose and an enthusiasm for the subject makes it a very readable book.

For other beach reading, I generally go for classics such as Jane Austin or Charles Dickens or wonderful modern authors such as Robertson Davies.

Andrea
Anything by Joann Mapson, especially Hank and Chloe. Anything by Alice Hoffman, of Practical Magic fame
Kathie
I recently picked up a copy of Tony Hawkes book, Round Ireland with a Fridge - his humourous account of his attempt to hitch hike around the circumfrence of Ireland with a small refridgerator as a travel companion. I thought it was especially entertaining and served as a window to the unique charm and wit of the Irish people. A refreshing change from the current glut of Irish pathos available in print and media these days. Is it available in the states? Would you do a review? I'd like to hear Savvy Traveler's take on it. Would you sponsor a similarly silly travel challenge? Miss the show greatly as I have been in the UK for 6 months. Finally located your site. Thanks!
My recommendation: Blue Highways by William Leastheat Moon.
Don
Depending on your tastes and your willingness to stick with things I suggest Angel of Darkness which tells of a group of investigative sleuths trying to catch a serial killer in turn of the century NYC.
For shorter and lighter reading I would suggest two books that have been out for a number of years but make the summer days pass with a light hearted view of the world.
The first is Shakespeare's Dog which chronicles the tales of Will's sidekick and the impact the relationship has on the bard's works, perhaps a "canine Shakespeare in love."
The second book is a travel log entitled In Search of the Pink Headed Duck and this tells of a man's attempt to find the last of its breed somewhere in Nepal or India. The characters he runs across and the descriptions are worth cracking the binding.
Bob
If you are looking for a great travel read of time and distance, I would recommend Bharati Mukherjee's The Holder of the World. The narrator is an art historian looking for a diamond. Her treasure hunting crosses paths with Hannah. Hannah is a seventeenth century woman born in Puritan New England. Hannah tavels from America to England to India following the tides of history. I gobbled this one up like a melting Dove bar on the beach.
Stephina
I thought that you also might want to include Ernest Shackelton's diary South on your list. Shackelton was going on expidition in 1914 to cross the Antarctic continent. His ship was locked in the ice before he could reach land, and he and his crew spent an entire year in the ice and on islands before reaching saftey. Very gripping, and not at all drawn out. A must read for the summer.
Peter
John Steinbeck's Travels with Charlie is the best travel book written. Jack Kerouac captured my imagination when I was young, in college, and without responsibilities. Steinbeck touches me now that I have a family. It is possible to travel, get to know yourself by getting to know your country.
I still remember vividly the scene of Steinbeck meeting the itinerant actor who did Shakespeare in small town high school auditoriums. He was a man who had found a calling. By making peace with the calling to the extraordinary in a truly ordinary way, he became extraordinary.
Steinbeck's last chapter was true. Often a trip ends before you have reached the destination. Those last few days can be torture, as they were for Steinbeck. Read Steinbeck to remember that travel is not just for the twenty-somethings, but for people of any age who are willing to get off the tour bus.
Jerry
The Lost Tomb written by Kent Weeks, Ph.D., is his enthralling description of the rediscovery of KV-5 in the Valley of the Kings in Egypt. "
Weeks brings to life the excitement and risks that he and his team encountered during the dig, including floods, scorpians, claustrophobia, and terrorist attacks....Weeks also provides a fascinating close-up of how an archaeologist works, revealing the tools and guesswork involved in finding such an elusive tomb..."
Truly exciting to the point of 'not being able to put the book down,' this book deserves to be tucked along the side in the suitcase and/or carried to the beach since it's not that cumbersome. Egypt on the itinerary? THIS is the book to read before or DURING your stay there!
I HIGHLY recommend it for ANY reading this summer! It's exciting!
Charles
I always thought I would like the adventure of mountain climbing until I read John Kraukauer's Into Thin Air. It was a best seller, made into a TV movie, and the story is the basis of the IMAX movie Everest. I can almost feel my body cold and tired as he climbs Everest and nearly dies in the attempt. A must read for anyone who likes adventure travel.
Tom
Although not usually thought of as travel books, the horse-racing mystery books by Dick Francis describe the interesting way of life in English racing towns like Newmarket. When my partner and I visited England several years ago we put Newmarket on our list of must sees, noting that the Bard is no longer in Stratford or London, but the horses still take morning exercises on the downs. We had a delightful time there, taking a van tour organized by the National Horse Racing Museum and seeing the very places and stable activity we had read about in these light- weight books. We saw horses out for morning exercise, stables built surrounding cobbled courtyards right in town, and the riding paths that criss-cross town for use by horses only. We were the only non- racing fans and only Americans on the tour. Our tour guide knew every owner, jockey, and stable. It was great fun!
So many of England's famous tourist sites are historical -- totally related to the past. Visiting Newmarket was a delight because life was happening as we watched. Horses who raced at Ascot the previous day were being weighed and checked by the trainers. "Lads" cleaned out stalls. The way of life portrayed in Francis' books is still alive for his readers to see. This doesn't sound very profound, but it was very fun. Reading Dick Francis' books made me want to see life in a racing town for myself. So isn't that what a good travel book is all about?
Carol
Rebecca West wrote Black Lamb and Grey Falcon, a two-volume book on her two trips to Yugoslavia in 1939. It is a compelling and startlingly current account of the Balkan people their history, alliances and enmities. Her descriptions of the dress, people, customs, and geography of the area are beautiful and evocative, The description of the lovely bridge at Mostar makes one almost ache at what is being lost during these last weeks. She even predicts that the future of the Balkans will be fought out in Kosovo. This is a wonderful prescient book that reminds us we have as much work as ever to do in finding new ways to address the destructive passions in the human psyche.
Julia
By now every lover of Italy will have read Under the Tuscan Sun by Frances Mayes...they should also try The Hills of Tuscany by Ferenc Mate. Equally filled with charm and delights.

For travelers to Italy who want more than the usual guide book try the Companion Guide series. Companion Guide to Rome by Georgina Mason is a classic. The ones for Florence and Venice are also very good.

But a travel book that is a journey far beyond most peoples ability to duplicate is Playing With Water [and the Great Deep] by James Hamilton-Patterson. The story of his year spent on an isolated island in the Philippines.

Graham
One of the best books I have ever read is Tracks by Robyn Davidson. If you think your trip was full of problems, imagine what Robyn went through training camels and then walking across Australia with them all by herself. She is an inspiration for all women travelers.
Ursula
Frances Mayes - Under the Tuscan Sun and Bella Tuscany - great summer reading - transports you to another place - and another time as well.
Anything by Anita Shreve - The Pilot's Wife - Quick easy reading.
Sheri
Every year as soon as the weather starts getting really nice I found myself being drawn back to Armistead Maupin's Tales of the City series (Tales of the City, More Tales of the City, Further Tales of the City, Significant Others, Babycakes and Sure of You). Maupin's tale of the residents of 28 Barbary Lane, located on Russian Hill in San Francisco (the "city" alluded to in the title) is captivating.
Although I have re-read the series every year for the past 15 years or so, I still find myself drawn into the character's lives and find myself completely unable to put the book down until I turn the last page and suffer in the knowledge that Maupin has moved on to other writing projects.
The book opens with Mary Ann Singleton, a secretary from Cleveland on vacation in San Francisco who finds herself incapable of escaping the city's magic. She finds an affordable apartment at 28 Barbary Lane where she takes up residence with a copywriter frustrated with having sold out, an oversexed waiter and a mysterious landlady whose name is an anagram. These characters form the base from which Maupin plays out the events of 70's and 80's. The writing is light and captivating and perfect for reading on a beach, airplane or anywhere you can carve out a couple of minutes.
Eva
Pickwick Papers. The reason I like it is because once you've read it you can turn around and read it again cuz it's so long. Also you can cut it up. So if you're with a bunch of people on a backpacking trip can trade chapters Did this in Europe.
Annete
London by Edward Rutherford. A great book for traveling -- it takes a while to read. It is a great history as well as explanations of architecture and how things came to be.
Deirdre
Traveling Mercies by Anne Lamott. Excellent book uplifting, funny, sad. Everything a book should be. I've recommended it to many friends -- it's better than a 'beach book,' but perfect for the beach.
Anne
Angle of Repose by Wallace Stegner, a Pulitzer prize winner. It's a fantastic epic story of engineer and his wife on West Coast. Everyone should read it. I spent a summer reading it at a summer resort on a lake.
Maggie
Burlington VT
2 books Bill Bryson - Lost Continent and A Walk in the Woods. Lost Continent is about driving around country looking for town with people of this is a wonderful life. Walk in the Woods - account of 2 men out of shape attempting Appalachian trail poignant and funny.
Michael
Diaries of Ellen Montgomery, the author of Anne of Green Gables. Magnificent descriptions of Prince Edward Island. And Halifax. She went through a depression while writing an uplifting book.

Kendra