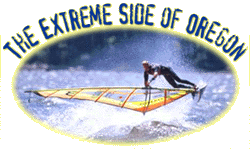 Extreme sports have become a big tourist draw. If you are looking for a place where you can ski, windsurf, mountain bike, kayak, and hike all in the same day, we're about to take you to a bend on the Columbia River where there is no off-season for sport and the rush of adrenaline: It's Hood River, Oregon and our guide is Hal Cannon of The Open Road.
The Extreme Side of Oregon
by Hal Cannon
The Open Road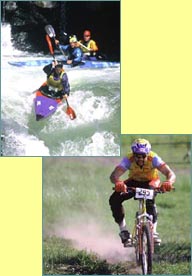 We're 50 miles upriver from Portland in a place where every other vehicle in town is stacked with kayaks, mountain bikes, surfboards, and snowboards. I'm here to see if one of these sports fits me.
The local watering holes are full of beautifully fit young men and women full of stories of near misses, daring deeds and a mindset all of their own.
Jason: The reason that Hood River is so epic for us and our lifestyle is because everything is so close. I can be on my windsurfer sailing in fifteen minutes from here.

Brian: Most people that live here don't do one sport in a day. You go to the mountain in the morning, then you turn down and hit the river and go sailing, then you get off the river so you go for a paddle.

Kelly: Kayaking is my drug of choice. It's a need for me. I have to do it and every day is different.
Kelly Murphy is a professional paddler at kayaking events around the world. She and her friend Tree invite me to go along and watch them run the river the next morning. Tree's a former Olympian who now owns a kayak shop with his brother. They give lessons to tourists and residents alike.
We're on the banks of the White Salmon River where Kelly and Tree are stretching into full body dry suits of GORE-TEX and Neoprene. They have to stay warm. After all, this river was a glacier just a few hours ago.
The river is a stairway of basalt rocks and cascading water. Golden leaves over emerald moss are surrounded by ferns. And a canopy of trees protects this magical place overhead.
Kelly and Tree strap on their crash helmets. They wriggle into their tiny boats that are painted like tropical fruit. I'm not sure I could even get into one of these dang contraptions.
Kelly: My last boat was Wilma. I'm on a Flintstones thing. This one's called Betty. And my next one will be Pebbles.

Tree: You ready, Kelly? Let's go get wet.

Kelly: Here we go!
They push off the rocks like seals plunging into the rushing water. Tree has agreed to wear a waterproof microphone attached to his drysuit giving us a play-by-play.
Tree: Here we go...woo! Down the next drop. Over this hydraulic...that was a wet one...cold and wet.
One hundred yards downstream is Maytag Rapid. Maytag got its name for the power of its hydraulic and its ability to thrash kayakers end, over end, over end.
Tree maneuvers his way into place for his run of Maytag. From the bank where I'm standing, it looks more like a waterfall than a rapid.
Tree: It looks like I'm gonna need to adjust my strategy here. I'm gonna jump the rock into the flat water, hoping I have enough speed to clear the power of the hydraulic.

Tree: I was just flipped over by the power of the current and I found myself upside down gasping for breath. The first thing that popped into my head was I need air. I was not prepared. I set up for my rollback to the surface world. I was thrilled. Let's go for another one.
Let's go for another one, and another, and another. That's the play of pure exhilaration in the clutches of primordial nature. So as Kelly and Tree wave goodbye and disappear around the next bend for another one their smiles are as broad as the river and as white as the churning water.
Tree: Hal, this is just an amazing river. Next time you're coming with!
I don't think so. I'd say a canoe on a placid lake is more my style.
I'm Hal Cannon for the Savvy Traveler.
Note from Rudy:

White water kayaking is not for everyone but Hood River has many calmer waters to paddle on as well as places to rent equipment and take lessons. Each July, Hood River hosts the Gorge Games where you can see the best kayaking, wind surfing and mountain biking in the country.