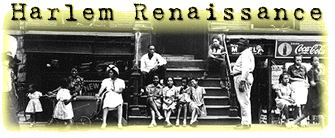 One of the many reasons people travel is to observe history -- tourists wait for hours in line to see the names of their immmigrant ancestors at Ellis Island. They visit castles or exhibitions of Egyptian artifacts. But some historical eras are not well-marked by monuments or museums. Their secrets dwell in the everyday streetscapes of everyday neighborhoods. Take the Harlem Renaissance of the 1920s -- a time of unprecedented cultural achievement for African-Americans. These days it's hard to find evidence of the roaring twenties and the fervor of what was called the New Negro Movement. Unless you have the right tour guide, as did The Savvy Traveler's Marianne McCune.
Harlem Renaissance
By Marianne McCune
It's a Sunday morning, and Adams points me toward the imposing facade of a neo-Gothic church near 138th Street and 7th Avenue. An immense stained glass window looms overhead.
Adams: "Right here is the Abyssinian Baptist Church. It was built by African-Americans in the early twenties."
Abyssinian is one of several nearby churches that helped transform Harlem into a black community. On this day, hundreds of well-dressed parishioners crowd into its wooden pews and join hands to sing a century old hymn, written by a forefather of Harlem's renaissance, James Weldon Johnson. "Lift Every Voice and Sing" is sometimes called the "Negro National Anthem."
Butts: "I love to hear the spirituals sung in our church, because they tell a story of our struggle."
Reverend Calvin Butts is the church Pastor and he welcomes tourists and visitors to the church balcony. Here, you can witness traditions that marry Harlem's history to its present.
Butts: "Shadowed beneath thy hand, may we forever stand true to that god, and then it says, true to our native land. And what is our native land? It's America. It's America."
When tour guide Michael Adams talks about the Harlem Renaissance, his sometimes cynical eyes light up behind thick glasses. As a gay, black intellectual coming of age in the Midwest, Adams says he never imagined he could find himself in history -- until he read about the black men and women who broke all the rules to make Harlem their Mecca in the twenties.
Adams: "The thing that's so inspirational about the Harlem Renaissance and about Harlem's emergence as a black community is you know you've got all these people who see Harlem as an opportunity to achieve their aspect of the American Dream. And they don't act in a passive way to achieve that, they act actively to bring about the transformation of this place into their community."
We turn onto 139th Street -- a beautiful block of three and four-story brick row houses, with polished wooden doors and elegant cast-iron balconies. These were among the last houses in the neighborhood to admit African Americans as residents. When the stubborn company that owned them finally gave up its quest for white buyers, Harlem's black doctors and dentists and otherwise well-to-do flocked here -- even if it meant they had to take in boarders to survive.
Adams: "Just as any school child, if you tell them don't smoke, don't drink, it becomes the most irresistible thing in the world to do."
With tiny, gated front gardens and back alleys for parking cars, these houses became known as Striver's Row. Its residents were striving to achieve America's middle class dream. This was the heart of Harlem's new black community -- the so-called New Negroes crowded into apartments all over the surrounding blocks. Neighborhood resident Helen Brown remembers -- she had a room in a yellow brick building on 142nd Street, the home of a widely respected choral arranger (bring up choir music) named Hall Johnson. Brown was a member of Hall Johnson's Negro Choir, among the first to make spirituals popular beyond Harlem.
Brown: "We were to specialize in spirituals. And I never knew what spirituals meant, because I was trying to do all the grand opera, ha ha, like Lily Ponds and them would do."
As a boarder and a member of the choir, Brown met many of the great intellects and talents of her time.
Brown: "They were all so very austere, and very grand, and very magnificent, and very oh my, they were ultra ultra."
Writer Langston Hughes would never talk with his mouth full, she says, even if it meant going hungry at a soiree. And poet Countee Cullen's shirt was so stiff he couldn't see over it, as Brown remembers it. Then there was singer Paul Robeson.
Brown: "I said, he looked like a Baptist preacher. And he had a big roaring laugh, ha, ha, ha, ha, ha, ha."
But the Johnson home was only one of dozens of addresses where Harlemites met to banter. Several blocks East, Adams and I approach a humble red-brick apartment building. If you look up before you cross 7th Avenue, you can see the letters YWCA stenciled above, in weathered blue and white paint.
Adams: "Now this is one of the most important places of the renaissance. Not only did Zora Neal Hurston stay here briefly, and not only did they debut their poetry and literary achievements, but also the restaurant there was the favorite meeting place of the black literati of Harlem during the Renaissance period, because food was good, reliable and inexpensive."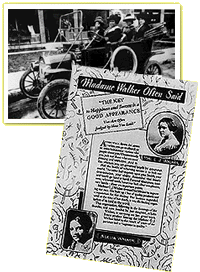 Photo from the Schomburg Exhibition Harlem 1900-1940.
CJ Walker (inset: Walker's ad)

There's nothing in the main lounge but wood beam ceilings and a dusty fire place -- the building is now a homeless shelter. The only visible remnant of the history that unfurled here is a small, iron plaque above a drinking fountain in the modern offices next door. It commemorates Mme. CJ Walker, the first black woman millionaire. She made her fortune selling hair products.
Adams: "This is so incredible because, she taught black women, who had the difficulty of how do they fit into this white esthetic that they find themselves having to deal with, how they could adapt their hair and stuff to that without being white."

Adams: "Now this building over here is another great monument of the Harlem Renaissance."
The Renaissance Casino spans an entire block of Seventh Avenue, right next to the YWCA. Its red bricks and painted tiles are crumbling now, and its cavernous halls empty. But in the twenties, bands like Chick Webb brought Harlem's finest to their feet here.
The ballroom held thousands of people and gave Harlemites a place to celebrate their birthdays and weddings, watch the Harlem Rens play basketball, and dance their nights away to the music that made Harlem swing.
Manning: "They had a ballroom on practically every corner in Harlem, so you could go dancing at any time that you wanted to, and it was always live music, big bands, and every night there was nightclubs."
Unlike the New Negro intellectuals, Frankie Manning wasn't interested in literature or high art. For him and for many of his contemporaries, the music and dance of Harlem were what defined its renaissance. Manning learned by watching his mother and friends at rent parties -- parties Harlem's strivers held when they couldn't quite get their rent together.
Manning: "The people was always laughing and joking and dancing and laughing, and maybe one person would get out on the floor and the others would get around, go ahead. It just seemed like a happy thing to be doing."
Manning invented some of the so-called airsteps that made Harlem's Lindy Hop world-famous. At the popular Savoy Ballroom, he literally threw his partner.
Manning: (laugh) "In lindy hopping you pick her up quickly, and you drop her quickly. You know,...when lifts you pick up, doo doo de doo, like that. And lindy hopping you say, shoop boom, yeah, ok."
Unfortunately, the Savoy Ballroom no longer exists. Most of Harlem's dance halls and theaters have been replaced by grocery stores or modern churches or parking lots or empty lots. But there is hope for the graffiti-ed Renaissance Casino -- a renovation is planned.
Adams: "And here behind you is another African American landmark, an unlikely thing to be a landmark -- a funeral parlor. The Rodney Dade Funeral Parlor."
You enter through a solemn, gothic archway under painted gold letters.
Adams: "It was here in this space where the great, great singer Florence Mills had her funeral."
Practically all of Harlem attended.
Florence Mills was beloved in Harlem -- for her flair and for her rise to world fame as an African-American singer and actress. Helen Brown remembers her return to Harlem after several years spent performing in Paris.
Brown: "She wore a faded pink that was so marvelous. When she walked down the steps with this trail behind her, she said, parlez vous parlez vous parlez vous, oui oui oui. And everybody had to stop. You could almost hear the breathing of everybody."
She died soon after -- and suddenly -- of appendicitis. The Hall Johnson Negro Choir and about 600 others sang at her funeral, and 200,000 mourners poured onto the now traffic-filled blocks of 7th Avenue.
Adams: "And there are photographs where people are lined up on the rooftops of these buildings to get a look at the Cortege going by."

Brown: "When we came out from singing, there was a plane that went over and let little black birds out."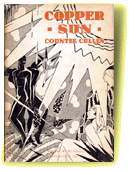 Countee Cullen's Copper Sun

Before Michael Adams goes home to rest his vocal chords, he takes me to the door of an angular red brick church on Seventh Avenue. Salem United Methodist's pastor adopted and raised young poet Countee Cullen, one of the few New Negro writers who actually grew up in Harlem. Cullen is sometimes criticized for trying too hard to fit a traditional, white aesthetic -- but Adams defends him.
Adams: "Even if Cullen tried to speak in a voice that had already been established by Keats or Shelley, he did it in such a winning and incredible way. The economy and charm of his little poem, She thinks that even up in Heaven, While her kind sleeps and snores, Colored cherubs rise at seven, To do celestial chores. And he's great!"
We peer into what are now the church offices: the dining room where Cullen ate meals with his family and the study where he must have toiled over his poems. Our footsteps echo through the church auditorium below Romanesque arches -- where Cullen was married to the daughter of the renowned black scholar W.E.B. Dubois. Adams cold go on forever -- we've traveled fewer than ten blocks, and he seems to find a little piece of history in every nook and cranny. But it's almost dark outside and the rest of his stories can wait for another tour -- Harlem's history will still be here.
For More Information:
To book a tour with Michael Adams, call 212-281-5802.

Encyclopaedia Britannica has a thorough section about the Harlem Renaissance on their website. Included are leadership, literature, art and entertainment, presented in photo galleries and multimedia clips.

Check out Yahoo's listing of sites related to the Harlem Renaissance, and their directory of African American museums.

If you're in Harlem you might want to stop by the Schomburg Center for Research in Black Culture. Their holdings include photographs of some of Adams' heroes and they're currently exhibiting the work of black New York artists of the twentieth century. Phone: 212-491-2200.

In Hartford, Connecticut, the Wadsworth Antheneum is featuring selections from the Amistad Foundation Collection. Call 860-278-2670.