Trekking Across Africa
An Interview with Rick Ridgeway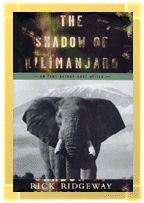 Come meet adventurer Rick Ridgeway and hear him reading excerpts from his latest book, which chronicles a nearly eight-thousand mile trek across Africa.
Rick is one of the world's foremost mountaineers. In 1978 he became the first American to reach the summit of K2 in Nepal without the aid of bottled oxygen. His latest adventure, a safari across Africa, may seem tame by comparison until you consider how he did it. Rick walked side-by-side with lions, elephants and buffalo across the African wilderness. With a guide, Rick began by climbing Kilimanjaro, then headed down the East face across the Savo region of Kenya to the Indian Ocean. The walk took about 30 days. I asked Rick to describe some of what he saw along the way.
For more information: