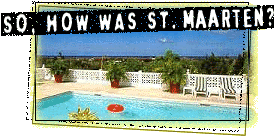 There is nothing quite so inviting as that familiar postcard beach scene -- the wide umbrella against the azure sky, the pristine white sand the glaceed turquoise sea. You could care less where it is, you're ready to climb in. Before you do, producer Wesley Weissberg offers a cautionary tale.
So, How was St. Maarten?
by Wesley Weissberg
There's an expectation to a vacation.
"I'm so jealous."
And why not? You spend lots of money. You use precious vacation days. You expect something.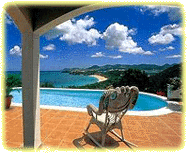 As winter set in, New York City was so cold and sleety wet, the Asian restaurant down the street wouldn't even deliver. There was never a better time to have a plane ticket to the Caribbean. My father had arranged for a house, a villa really, on St. Maarten, and invited my sister and me, along with our husbands and kids. It seemed ideal. St. Maarten is a tiny West Indian island, half French, half Dutch, the smallest landmass in the world to be split in two countries. It promised everything --- dozens of beaches, deep-sea fishing, scuba diving, snorkeling, gambling, golf...
But it promised even more to our family. My father was recreating a trip we had taken to St. Maarten 25 years ago when my sister and I were kids and Dad was recently divorced. We still spoke of it. I remember racing crabs on the beach, catching salamanders under the banana trees and having our own pool. Later, we would measure other vacations against that idyllic tropical Christmas.
But this trip didn't quite go as planned..
Day One: The Dog
The house looked like a perfume ad -- white stucco walls and Spanish tile floors with an inner courtyard and L-shaped pool. It stood high on a peninsula, overlooking the sea on three sides. The neighborhood, called Terre Basses had no stores, no town, just hundreds of villas, each with its own designer pool, gardener, and maid.
Around the house was a high wall with a sign that said "Beware of the Dog." But there was no dog, not at our house. On that first day I decided to go for a stroll with my one-year-old daughter Eleanor.
Hephillia: She went to carry Eleanor for a walk and in walking the dogs came out from the fence and start barking after her and she gets so scared until it ends up biting her. [laughing] I was glad it was her and not the baby.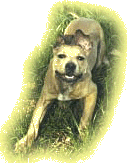 Hephilia, the brave woman who walked that road every day so she could wash our linens, said the dogs belonged to the neighbor. There were four or five of them, medium sized, brown and mongrelly. The one that got me came from behind and wrapped his mouth around my left calf, in the thickest part, like you might a chicken leg. I pushed the carriage away from me -- Battleship Potemkin downhill toward a man coming up the road. The dogs disappeared back under the neighbors gate to lay in wait, I imagined, for their next victim. Clutching my calf, I hobbled toward the man in search of sympathy. Eleanor lay in the stroller. She'd slept through the whole thing.
Hephillia: I didn't tell you to carry a stick
I spoke to the realtor who'd rented the house and to the local police. They offered forms and sympathy, but nothing about removing the dog -- certainly not in this vacation lifetime. They both said this had never happened before, but Hephilia told a different story.
Hephillia: It bite many people and the owners haven't done anything about it.
You can still see the markings where the dog's teeth went it, two round points separated by an invisible 45 degree of jaw. The doctor who patched me up made me keep the leg dry for two days - two days surrounded by ocean, next to a private pool and I couldn't even take a shower.
So I eased into the rhythms of a sympathy vacation. No swimming, no walking, just visits to the local medical clinic and phone calls from family members in New York City. Though they'd barely so much as pet a dog, were now even more certain of the evils of the natural environment that lurks beyond the isle of Manhattan.
But my days as the victim were ending.
Day Three: The Mosquitos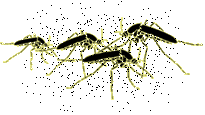 The mosquitos were worse this year. That's what they told us anyway. It rained a lot, maybe that was why. We slept under netting, which didn't quite work, and in the morning we put Cortaid and calamine on our swollen arms and legs. Eleanor, so happy to be free of the layers of winter clothing we'd been bundling her in was now wearing layers of creams and ointments. But it turned out there was more evil to those nasty little bugs and their itchy red markings than any of us realized.
Day Five: The Fever
My brother-in-law Stuart awoke that morning with a fever of 104 and cramps so great he couldn't move. Dengue Fever. A mosquito borne illness known as "Backbreak Fever" Stuart spent six more days writhing in bed, sometimes delirious, his eyes so swollen he could hardly see.
Stuart: The fever...from the virus itself.
Oh, and big surprise.
They said he didn't get it in St. Maarten.
I'll admit it. I'd been topped. On the menu of vacation-hell my dog bite became merely a canape. Stuart's week of delirium and fevers was the event that would define this family holiday for all of us. But he saw it differently.
Stuart: No, it didn't really...bonus vacation sickness"
My brother-in-law's eerie and somewhat annoying stoicism about the whole thing made me wonder.
Maybe the dog bite, the mosquitos and the Dengue Fever weren't just a patch of bad luck but an answer to an unspoken question. You can't recreate that over idealized childhood vacation, that Madeleine of a perfect time and perfect place. You shouldn't try. Somewhere between the complete unadulterated childhood memory and the mongrels and mosquitos we met this time, lies Saint Maarten, a small island, half French and half Dutch, the smallest landmass to be so divided.
Just remember, if you go for a walk, carry a stick.
Back in New York, where it's cold but familiar, I'm Wesley Weissberg for Savvy Traveler.