Greenland Close to the Heart
Interview with Simon Winchester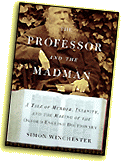 Simon Winchester is a journalist that gets around. He's written numerous books about the Far East and is a regular contributor to travel publications like National Geographic, Conde Nast Traveler and Smithsonian. His latest book is "The Professor and the Madman - a mystery about the intrigue behind the making of the Oxford English Dictionary." Headed to the top of the New York Times bestseller list, Simon has taken a breather from his book tour to do a Places of the Heart interview with me. But he's not talking about England where he was born and bred or the vibrancy of New York where he now makes his home. No, Simon has come to talk about Greenland -- his favorite place, it seems, on the planet.
Want to find out about Marine Expeditions, which has tours to Greenland?
Based in Toronto, Marine Expeditions offers tours aboard several ships to Greenland, as well as destinations such as Antarctica, the Northwest Passage, Russian Far East, Canada, Alaska, The Falkland Islands, Greenland, Iceland and South Georgia.