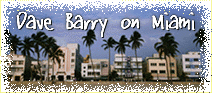 Places of the Heart:
Dave Barry on Miami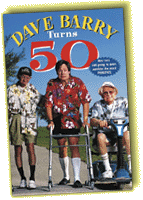 Like so many of my generation, Pulitzer prize-winning columnist Dave Barry is now a proud member of the Big 5-0 club. One more year and I'll be a member too. To prepare for the occasion, I'm reading Dave's latest book -- aptly titled Dave Barry Turns 50 -- hoping that if I ponder his insights about the milestone ahead, everything will go smoothly.
I've decided to ask this funny guy if where he lives has anything to do with staying young for our Places of the Heart segment. The place nearest and dearest to him is Miami. Dave's had quite a few years to figure out where he wants to live, but he chose Miami.
Dave Barry's book "Dave Barry Turns 50" is available from Amazon.com.

[ Features Index ]