The Art of Pilgrimage
Interview with Phil Cousineau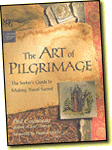 For thousands of years, the need for meaningful travel has been met through pilgrimage. With the millennium quickly approaching it's estimated that, in the year ahead, more people will journey in search of sacred inspiration than in any other time in history. The Vatican is expecting nearly thirteen million celebrants for the year 2000, and another three to four million travelers will make their way to the Holy Land. Phil Cousineau is author of the book, The Art of Pilgrimage: The Seeker's Guide to Making Travel Sacred. When Phil stopped by recently, we asked him to explain the difference between a pilgrimage and a vacation.
Phil Cousineau's book Art of Pilgrimage: The Seeker's Guide to Making Travel Sacred is available from Amazon.com.

Additional information about pilgrimages:
Pilgrims Progress
A website with pilgrimage information, links to pilgrimage sites and shrines. The web address is http://www.pilgrimsprogress.org.uk.

Christian Tours USA
They offer pilgrimages to Jerusalem, as well as Egypt, Jordan, Syria, Turkey, Italy, Greece, Fatima, Lourdes, Medjagore, and Cyprus. You can find them online at http://www.cwd.com/ctusa/.
Sacred India Tours
"Travel with a group of like minded people along ancient pilgrimage trails that meander through rich Himalayan forests, meadows and snow deserts. Visit sacred shrines and temples situated in the heart of the Himalayas." For more information, check out the Sacred India Tours Web site at http://www.sacred-tours.com/.
A Guide to Anne Rice Pilgrimages
Visit the New Orleans of Anne Rice, the author of "Interview with the Vampire" and other vampire-related novels. Find out more online at http://www.geocities.com/BourbonStreet/2536/.
[ Features Index ]