Escape to Provence
an interview with Peter Mayle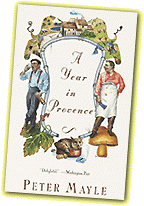 The world first enjoyed Peter Mayle's luscious descriptions of French food, French culture and the French countryside in his earliest book, A Year in Provence. It was an instant success, appearing on The New York Times bestseller list for three years.

Now with subsequent books like Toujours Provence and Hotel Pastis, his name is nearly synonymous with the south of France, and his familiarity with the region is so intimate, readers often wonder if he discovered the place.

Peter Mayle began his professional life as an advertising executive in New York City. But in the mid-seventies, after 15 years of the grind, he gave up the glamor and fast pace of Manhattan and moved, with his wife Jenny, to Provence, in the south of France. He joins us for a special "Places of the Heart" to talk about the country that captured his imagination and inspires his best-selling novels.

A Year in Provence is available from Amazon.com.

[ Features Index ]