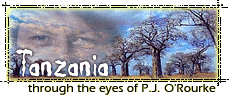 Tanzania through the eyes of P.J. O'Rourke
An Interview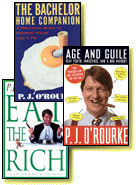 Witty and ironic are the first two words that come to mind when I think of P.J. O'Rourke, author of bestsellers like Holidays in Hell and Parliament of Whores. His latest book, Eat the Rich, is an eye-opening look at wealth around the world. O'Rourke examines the economic situation in eight countries, ranging from capitalist success on Wall Street to poverty in Tanzania--a place he says, "has little money but is fabulously rich in other ways."
P.J. drops by to talk about his love of Tanzania for our Places of the Heart segment.
P. J. O'Rourke's book Eat the Rich is available from Amazon.com.

Tune in November 17 to hear an audio clip of this interview.
[ Features Index ]