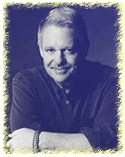 When you think of San Francisco in the 70's, nothing is more evocative of the city's freewheeling lifestyle than Armistead Maupin's Tales of the City. And it's probably fair to say that in no other city would Armistead Maupin have been able to speak so candidly about gay life and taboo subjects like prostitution, transsexualism, and drug use than in the City by the Bay.
So when we invited Armistead to do a Places of the Heart interview for the show, we expected him to talk about San Francisco -- the city that helped foster his career. Instead, he surprised us and said that he'd like to talk about a tiny village in New Zealand where he has a second home. He bought the home as a "weekend place."
More Information:
The house Armistead Maupin referred to is called Kahikatea. Maupin no longer owns the house but has sold it to his sister who has turned it into a bed and breakfast.
Kahikatea Bed & Breakfast
Wainui Valley Road
RD2
Akoroa, New Zealand
phone: 64 3 304 7400
Want to check out the Tales of the City Web site?

Armistead Maupin's latest Tales of the City is available from Amazon.com.

[ Features Index ]