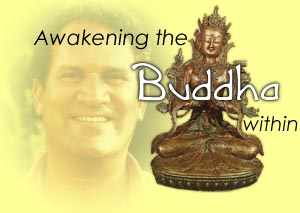 His name is Lama Surya Das. He's the highest-ranking Westerner in Tibetan Buddhism. So, you ask, what's this got to do with travel? Well, a whole lot, if you're like me, you travel all the time. And Surya, as his friends call him, keeps a traveling schedule that puts mine to shame. His publicist compares his schedule to that of a traveling sales rep -- he's on the road almost as much as he's at home.
Awaken the Buddha Within
An Interview with Lama Surya Das
Lama Surya Das recently racked up a slew of frequent flyer miles on a 12-day book tour, promoting his latest book called, Awakening the Buddha Within. He visited ten cities on that tour, making at least three appearances a day. So, I thought, who better than Surya -- whose purpose in life is to enlighten others -- to tell us how to handle the stress of travel.

Lama Surya Das's book Awakening the Buddha Within is available from Amazon.com.
Who is Lama Surya Das?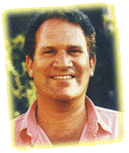 Lama Surya Das is one of the foremost Western Buddhist meditation teachers and scholars. Born Jeffrey Miller, he graduated with honors from the University of Buffalo, and has spent over 28 years studying Zen and Tibetan Buddhism with the Eastern masters in Asia. He now teaches and lectures around the world, conducting dozens of meditation retreats and workshops, and regularly organizes the annual week-long Western Buddhism Teachers Conference with the Dalai Lama in Dharmsala, India.
Lama Surya Das also teaches regularly and Esalen, Open Center, Omega Institute, Interface, at universities here and abroad, as well as at spiritual centers of many Buddhist schools and sects.
In his role as a leading Buddhist teacher and spokesperson helping to shape the emerging form of Buddhism in the West, Lama, Surya Das was a keynote speaker at the first two "Buddhism in America" conferences in January 1997 and May 1998 and even he has an "Ask the Lama" feature on his web page for the Dzogchen Foundation of America, which he founded in 1991.
A renowned author and poet, Surya Das has written The Snow Lion's Turquoise Mane: 155 Wisdom Tales from Tibet(1992) and coauthored Natural Great Perfection: Vajra Songs and Dzogchen Teachings (1995). He is also a regular contributor to Tricycle magazine, Yoga Journal and The Shambala Sun.
When he's not meditating or teaching, Surya Das enjoys music, dogs, swimming, bicycling, hiking and haiku poetry. He resides near Boston.
[ Features Index ]