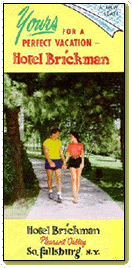 Well...maybe it was a culture thing...maybe Judie would have gotten into less trouble in the Catskill Mountains of New York, otherwise know as the Borscht Belt, where some great Jewish performers...like Sid Caesar and Jackie Mason made their start. Then again...the times, they ARE a changin'.
by Marty Goldensohn
Why do so few vacationers choose the Catskills for vacation nowadays?
"Most of them go to Florida, now a lot of them are going to Las Vegas, another place for the Jews to go. I was in Las Vegas a couple weeks ago and I thought I was in Miami Beach."
Air travel all but killed the Catskills. So did air conditioning, television, Atlantic City casinos, assimilation, and prosperity. Today people aren't exactly jealous when they hear you're booked at Cutcher's or the Raleigh, so to compete, Catskill resort owners are refurbishing and reaching out to new audiences. Last Hanukkah season the sprawling 2500-room kosher Concord Hotel, which is in bankruptcy but still full of life, featured The Nutcracker on ice. Christmas headlining at the Concord. What next?