Pico Iyer is one of the most revered travel writers of our time. He's journeyed the world covering distant places for publications like Time, Harpers and The New Yorker. He's been to the kind of places most of us only dream of visiting: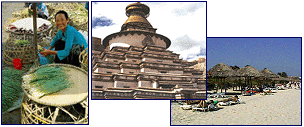 Cuba
Vietnam
Ethiopa
Tibet
He's even chatted with the Dalai Lama. But with so many exotic experiences to his name, what corner of the globe does he like best? Where does he call home? Pico Iyer joins us to answer those questions and to talk about his latest book: Tropical Classical -- a collection of essays about the places and people he's met on his travels.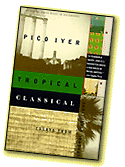 More About Pico Iyer
Pico Iyer's book Tropical Classical is available from Amazon.com.

Iyer has written principally for Time since 1982. His essays also appear regularly in Harper's, The New York Review of Books, The New York Times, Sports Illustrated and other publications on this side of the Atlantic and abroad. His novels include the following:
Cuba and the Night
Falling Off the Map: Some of the Loneliest Places on the Earth
The Lady and the Monk
Video Night in Kathmandu
[ Features Index ]