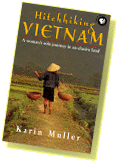 Karin Muller was born to travel. The early signs all pointed to it: Her mother's stories about growing up in Africa...her own upbringing on four continents...not to mention the years she spent in the Philippines with the Peace Corps.
Even after Karin settled down and established herself as a successful management consultant, her wanderlust would not go away. So... heeding her instincts, she gave it all up and took to the road to see the world.
Her first trip was a search for the "real" Vietnam which inspired her book, Hitchhiking Vietnam. Karen dropped by to talk about the discoveries she made on that journey .
Karen Mullers's book Hitchhiking Vietnam is available from Amazon.com.

Check out the following excerpts from here book:

Cameras and accessories:

One-chip Hi8 Camera

Nikon 8008s with 35-135 zoom lens.

SB25 flash

Five filters for the Nikon, three for the Hi8 camera (polarizor, UV, red/yellow enhancer, tobacco)

An amazingly heavy Bogen tripod with a fluid head

60 hours of Hi8 tape

27 pounds of customized batteries that didn't work

Hi8 camera battery recharger

130 rolls of slide film (I used 123 rolls)

50 AA batteries (every piece of equipment operated on AAs, including the flashlight)

Microcassette and 42 two-hour tapes

Lens cleaning solution

70 ziplock bags (That was 25 too many)

Pelican case (which I hardly ever used, it was so big and bulky)


Other:

Three pairs of socks and underwear

Polartec light jacket and three shirts

Two pairs of pants

1 pair of shorts

Reebok shoes and sandals

A large assortment of medication, both prescription and non-prescription

Shampoo/toothbrush/soap(detergent)/toothpaste/hair-ties/deodorant

Sunglasses

Hat

Not enough tampax

Flashlight

Compass

Pocketknife

Basic motorcycle repair tools

Duct tape

Sewing kit

Toilet paper

Pens and paper and notebooks

Water bottle

Iodine tablets

Vitamins (eventually)

Too many books

Origami

Juggling balls (fillable)

Life magazine (for locals)

Laminated photos from home

Dictionary and grammar book

Passport/visa/photocopies


Things I wish I had brought:

More tampax

Mom

Frisbee

Vitamin C

Sunscreen

A real cameraperson

My SB25 user's manual

7 months
6,400 miles
4,000 dollars (excluding airfare and visa)
63-pound backpack
Vietnamese vocabulary: 1,800 words
Transportation: bicycle, motorbike, train, bus, hitchhiking, truck, water buffalo, horse, fastboat, plane, outrigger, canoe, hiking
113 hours on the train
42 hours waiting for rides
52 motorbike breakdowns
Small companions: mosquitos, bedbugs, spiders, ants, bees, mites, fleas, centipedes
Large companions: 1 rugged Alaskan, 1 handsome German, 1 unfriendly eagle, 4 leopard kittens, 1 infant endangered gibbon
14 arrests (2 in Cambodia)
1 explusion (from Vietman)
4 haircuts
134 lodging houses
52 hours of Hi-8 video footage
4,644 slides (129 rolls)
Consumed:

429 bowls of soup
8 pounds of weeds
endless green tea

Stolen: 1 glove, 1 bottle of shampoo, 1 liter of gasoline
Purchased: 23 uncut rubies
Injuries and illnesses: 1 punji stake impalement, 5 colds, anemia, giardia, scurvy, assorted motorcycle burns, split ends
You can see much more of Karin's photos, essays, and thoughts, if you head over to PBS online.
About Karin Muller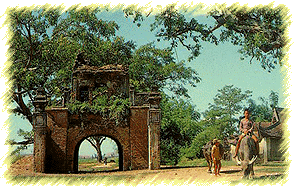 Karin Muller was born in Switzerland and raised in the U.S., the Caribbean and Australia. Karin, 32, speaks five languages and lived in the Philippines for two years as a Peace Corps volunteer. Karin currently resides in Arlington, Virginia, and is preparing for a number of trips sponsored by PBS for a hitchhiking series based on her travels and writing.
A published author whose previous work includes two pieces of short fiction published in the 1994 Sideshow anthology and "Castles in the Tide," published in the 1994 Deep South's Writers Conference Chapbook. Her work will also appear in a forthcoming anthology by Houghton Mifflin about women and their adventures in the wild.
[ Features Index ]