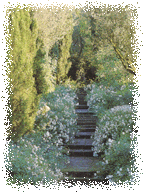 Turn of the century British garden expert Gertrude Jekyll likened gardens to fine art. She described the successful garden as a "dream of beauty, a place of perfect rest and refreshment of mind and body--a series of soul-satisfying pictures--a treasure of well set jewels.
Writers Marina Harrison and Lucy Rosenfeld share Jekyll's appreciation of gardens and went on a search for the loveliest ones in the Northeast. Their search resulted in the books Gardenwalks, a directory of 101 of the best gardens from Maine to Virginia.
Gardenwalks: 101 of the Best Gardens from Maine to Virginia and Gardens Throughout the Country is available from Amazon.com.

[ Features Index ]