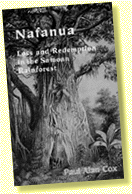 Saving the Samoan Rain Forest
After his mother's death to cancer, Paul Alan Cox took his wife and two daughters and set off for the Samoan Rain Forest in search of anti-cancer remedies and healing plants. He spent a year there as a recipient of a National Science Foundation award and has written a memoir about the experience called Nafanua: Saving the Samoan Rainforest, which describes his intense involvement with the Samoan people and his effort to preserve their environment.
Listen to a RealAudio clip of Rudy and Paul.
Paul Cox's book Nafanua: Saving the Samoan Rainforest is available from Amazon.com.

[ Features Index ]