A Sign of Progress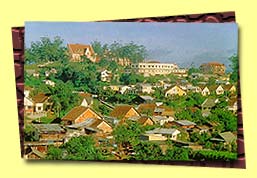 My son Alexander turns 17 this coming week. I won't be celebrating his birthday with him because he's in Vietnam working in a rural community near Da Nang. As he departed for his first trip to Asia by himself, I couldn't help but think what Vietnam meant to me when I was his age.
There weren't many of my peers trying to get there back in 1966. Quite the contrary. The war was well underway, and protests against America's involvement were beginning to get serious. Nothing like 30 years to change everything.
A family friend began a small medical clinic in the countryside near China Beach in the early '90s. This summer he invited Alexander to join his daughter and some of her classmates to help out at the clinic for a few weeks. The young women are working in the clinic while the young men build an addition.
My son hopped a commercial flight to Ho Chi Minh City, Saigon back in my days, as easily as catching a flight to London. He had no trouble taking a cab downtown to a hotel, whose desk clerk answered, "Hello, may I help you" in excellent English when I called to make sure Alexander had arrived safely. Last semester, Alexander studied the Vietnam conflict in his ninth grade history class. Now he's on the ground. And the wonder of travel is that his high school memories of Vietnam should be happy ones, not anxious ones fueled by nightly news scenes of wounded being evacuated from jungles by helicopters. I take that as a genuine sign of progress.