The Freedom to Travel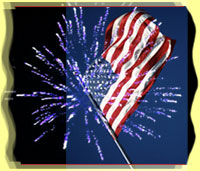 I'd like to make a modest proposal as we head toward this July fourth. If you're watching fireworks in the next couple of days, give a silent thanks for our freedom to...travel. It's often a shock the first time an American goes abroad and meets someone whose government makes it difficult to travel beyond the borders. It wasn't so long ago that only the privileged could leave what was then the Soviet Union for a holiday or work. And when was the last time you bumped into a visiting North Korean?
I'm not saying everything is perfect here in the land of the free. I agree with the majority of Americans who think Uncle Sam ought to lift its travel restrictions to Cuba. And I've run into the occasional very nosy Customs agent. But on a scale of one to ten, we're about nine-and-a-half when it comes to freedom of mobility. "Don't fence me in" might as well be our national anthem.
In this week's show, we're going to visit the Grand Canyon and the Czech Republic, among other places. The nice thing is, you can call a travel agent or an airline and by tomorrow, you can be on the Colorado River or hoisting a beer in Prague. Or if you can afford the gas, you can hit the "superslab," as Jack Kerouac called the nation's highways, and drive 'til you hit ocean. Now, that's freedom. Happy July Fourth.