Driving in Rome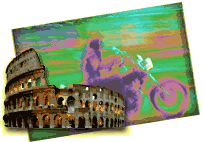 Not long ago, I asked you to tell me where you found the worst drivers in the world. Italy got a lot of nominations. But I spent a few days in Rome this week, and, you know, as fast as Romans drive, travel moves along quite smartly. Even though most streets don't have marked lanes, everyone seems to play by the same non-rules.
I did notice that red lights apparently don't apply to SOME cars. And they're only a reason to slow down for many motorcyclists. Also, Romans seem incapable of driving more than three blocks without hitting their horns. And creative swearing at other drivers is deeply ingrained in the culture. My personal favorite: Mortacci tua!, or "A curse on your ugly, dead relatives!"
I don't know, maybe it's the heritage of all those chariot races. How else to explain why cars manage to come so close to each other without involving an insurance company. Seat belts are rarely worn, though a new law requires motor bikers to wear helmets. Surprisingly, that law is obeyed. Maybe it's because it's a chance to make a new fashion statement. Louis Vuitton came out with a $420 helmet, and there's a snakeskin model from Trussardi for a mere $850. Now, strap on your designer helmet as we explore another ancient civilization...