The Drawbacks of Paradise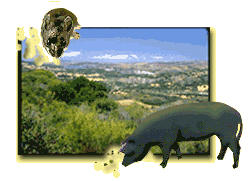 I bet a lot of us play the "I wonder what it would be like to live here?" game when we travel. Especially when we visit beautiful places with friendly climates. I felt that way this past week when I spent a few days in the wine country of Santa Barbara County, a couple hours north of Los Angeles. As I drove around the Santa Ynez Valley admiring the emerald hills, lovely homes, and picture-perfect vineyards, I imagined what it would be like to own a winery, to live under the warm sun of California's Central Coast.
Then I had dinner with a vintner and his wife, Geoff and Alison Rusack. They'd given up professional lives in Los Angeles, he a lawyer, she a studio exec, to raise their sons while growing grapes and making wine in the country. And I learned that every place, no matter how much it resembles paradise to a visitor, has its unique drawbacks. Geoff's car had to be stripped to its chassis to get rid of field mice. Wild pigs destroyed their front lawn. Deer nibble at their profits by munching on young grape vines. Moles destroy roots when they dig around for food. And Alison didn't even want to discuss the rattlesnakes.
Then there's the constant worry about weather and parasites and then promoting and selling the stuff. Not that the Rusacks are complaining. But they sure popped my bubble about becoming a gentleman grape farmer. Turns out it's not just about sampling different vintages of pinot noir. So next time you think the locals have life on a string, chat them up. I bet there's a back story to every pretty picture.