Getting Away from it All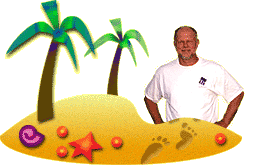 It's a common fantasy: You want to escape to a deserted, tropical island. But the reality is, when you fly off to a dreamy, place, you find lots of other people there, chasing the same fantasy.
Well, I know a place that really is almost empty of tourists but still offers modern amenities. It's the island of Middle Caicos, the least populated of the seven islands that make up the Caribbean country of the Turks and Caicos. Fewer than 300 people live on Middle Caicos, and there's nothing much to do but read, doze, hike, swim, and put in time on the beach.
Which is exactly what attracted Mike Witt and his family to the spot nine years ago. They bought a spectacular piece of land above a spectacular beach and built their home along with three or four cottages for guests. They call their slice of paradise Blue Horizon Resort. And if you write the best 250-word essay about the person, real or imagined, with whom you would most like to be stranded on a deserted island, well, we'll send you and a traveling companion on a week's vacation to the Blue Horizon. American Airlines will get you there.
Enter the Island Getaway Contest and your next stop may be a beach in the middle of nowhere.