Customer Service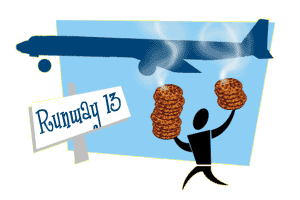 Did you read about the United Airlines pilot who ordered 15 large pizzas to be delivered to his plane? His flight was stuck on a Minneapolis runway because of a snowstorm in Chicago. So he put the $170 on his credit card and had the pizzas delivered to the plane to cheer up 105 grumpy passengers.
Now that's my kind of airline captain. So much more thoughtful than that Northwest pilot who left a plane full of passengers at the gate in Vegas while he went into town for dinner. Seems he didn't like what was going to be served on board that night. He lost his job, by the way.
Keeping a large group of people happy in a confined space isn't easy. But as you'll hear in a moment, it helps to be a VIP, as in "Very Important Politician." Especially if your have to dodge incoming nuclear weapons. Stick around.