A Lifeline for Nigerians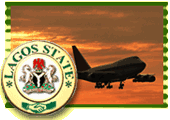 If I ever get on that millionaire game show and have to name the airport for Lagos, Nigeria, I won't hesitate: It's Murtala Mohammad International Airport. Not that I've ever been there. It's just that for six years, every time I flew in the U.S., I'd see a sign warning me that security was considered insufficient at Murtala Mohammad airport.
And then, in December, the Transportation Department lifted its ban on direct flights from the U.S. to Lagos. Not that anyone rushed to provide service. And not that Nigeria doesn't have a lot more to worry about than whether Americans can fly there non-stop. Lagos--West Africa's largest city--is also one of the world's most dangerous places. Kidnappings, carjackings, and robberies are big problems. On "Who Wants To Be a Millionaire," you can use what they call a lifeline to call a friend for help with an answer. Even though I won't have to call anyone for the name of the airport in Nigeria, the residents of Lagos sure could use a lifeline of their own.
Savvy Resources: