Mr. Valentine's Day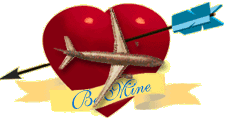 I'm Mr. Valentine's Day. That's because earlier this year, I noticed American Airlines offered a discounted award ticket to Europe for a mere 30,000 miles, only 5,000 more than it takes to get a regular, round-trip domestic ticket.
So I booked for two to Paris. Now when anyone asks me what I'm doing for Valentine's Day, I say, "Taking my girlfriend to Paris." Women love it. Then they look at the man in their lives, who at this point is fixing me with an, "Oh, thanks a lot, buddy!" look. And I know he's hating me as he scrambles to rethink that box of chocolates.
Not all my Valentines have been so successful, though I've found you can rarely go wrong with travel. Except for that one time. I took a former girlfriend to an Elton John concert in Las Vegas and told her I loved her over a lovely Italian dinner. But the night turned out to be a disaster because, she said later through tears, I'd neglected to get her a card. This is the trickiest of special days; even a bad gift on a birthday or Christmas can be excused with the old, "It's the thought that counts." But Valentine's Day...well, everything better be perfect!
But that's the subject of an entirely different kind of radio show, isn't it?