The Drama of TV Weather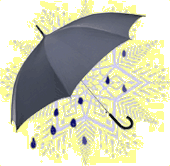 I took a recent ski trip to Steamboat Springs, Colorado. I actually went to give a talk to something called the Weather Summit -- an annual gathering of television weather reporters from all over the country. Let me tell you something: Weather people are a pretty upbeat bunch -- and the more dramatic the weather, the more animated they get. After all, there's nothing exciting about an average weather day. But let a major snowstorm head for the East Coast, well, now you're talkin'!
Steamboat was blessed with a lot more snow than other resorts in Colorado, so business was pretty good. But business is generally flat elsewhere -- not just due to a lack of snow. It's all the cash you have to put out. I could make a month's car payment on what the average adult skier pays for a lift tickets and equipment rental. As guests of the resort, the weather folks and I didn't pay anything. But that was a brief holiday from the real world.