Running from the Flu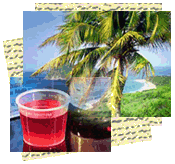 Near as I can tell, I'm the only one of my friends still standing. This flu thing is wiping out armies of people for five or ten days at a time. One friend is proud to say he's already had two of the three strains going around. I think one more is called a hat trick.
The worst story I heard involved my friend Simone. She went to the Hawaiian island of Lanai last week and spent her entire honeymoon in bed with the flu. Getting sick on the road is so much worse than getting sick at home. You have none of your familiar comforts. I remember a few years ago touring Rome for a week with an old girlfriend. Mostly, I blew my nose. I'm sure she still remembers it as the least romantic trip of her life.
All around me on planes and in subways, people cough and hack. I've suddenly become compulsive about washing my hands. I gave a speech in Madison, Wisconsin, this week, and in a reception line, the co-chair of the group refused to shake hands with anyone for fear of contracting something wretched. I say we all get out of town and find a balmy island in the Caribbean, where rum drinks are used to ward off germs instead of antibiotics. I'll tell you about a great deal over there later in the show. Somewhere south of Key West, the spirit of Bob Marley is calling us, entreating us to fly toward the sun and turn our red noses toward the trade winds.
{ View Index }