Millennium Letdown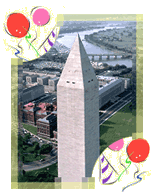 Was it just me and everyone I know, or was last weekend one big letdown? Hyped to the heavens for two-thirds of the year, then denigrated as over-priced and over-hyped the last third, New Year's Eve seemed one of the lowest energy celebrations I can remember. Popular restaurants in my hometown of Washington, D.C, were barely half-full. Yeah, there were 300,000 people on the Mall for fireworks, but the streets were empty and there were only two arrests for drunk and disorderly conduct. Heck, that's nothing compared to your average, non-New Year's Friday night!
What happened? Was everyone expecting bad news? Crashing planes and computers, acts of terrorism, urban rioting, electrical outages? Was it the early attempt to charge too much money for just about everything? Well, I think it was all of the above somehow turning this New Year's Eve into a rather sedate event. About an hour before midnight, I checked in with our counter-terrorism expert, Neil Livingstone. He was as bored as the MSNBC crew assigned to be with him all night. And Livingstone slept in the next morning, Saturday, after ABC canceled a three-hour special edition of "Nightline." The show, with Neil as a guest, was supposed to review the computer meltdowns, travel problems, and incidents of terrorism. Except there was nothing to review.
I know next New Year's is the real millennium. But, please -- can we save the hype and the price-gouging so we can all travel to exotic destinations as usual? And maybe, just maybe, go out and party like it's 1999?
{ View Index }