A Safe New Year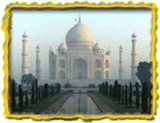 American Airlines has got some chutzpah! A few months ago, Federal Aviation Administration chief Jane Garvey announced she'd fly from Washington, D.C., to San Francisco aboard an American flight that would be in the air at midnight of New Year's. She wanted to show she was confident that the nation's skies were safe and damn the Y2K bugs.
Well, it turns out not a lot of people are flying on New Year's, which is true most every year, by the way, so airlines all over the world have canceled flights. American actually canceled the flight Garvey had booked. Then it canceled a second flight! Now, she'll be aboard a jet between Dallas-Ft. Worth and San Francisco at midnight. Since that flight often lands early, American may have to make sure it at least circles San Francisco so Garvey can make her point. Who else will be aboard? Mainly journalists covering the event.
From India comes word that no one will be able to see the Taj Mahal in moonlight. An Indian court decreed the monument is vulnerable to terrorists and should be kept closed at night. Terrorism, of course, is a big threat everywhere this New Year's, because terrorists rely on symbolism to make their point. Puts those computer glitches in perspective, doesn't it? Wish I could be in the air with Jane, but the president and I have decided to stay home for the December holidays. Wherever you are this season, I wish you a safe, happy and healthy one.
{ View Index }