Working on Holidays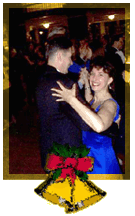 About this time last month, Cunard Cruise Lines posted an advertisement on the Internet seeking a dance couple for one of its New Year's cruises. When hired, the couple would teach dancing, perform, and assist with other cruise staff duties. I'm not too sure what that last obligation might entail, but I trust the same guys teaching the tango and the Funky Chicken won't be steering the ship.
Anyway, it got me to thinking about all the people in the world who work on holidays so the rest of us can make memories. In the travel industry, they include airline employees who are on the job while we're trying to get out of town. Hotel and restaurant staffers, toll booth workers. There are the employees of emergency services such as police, medical workers, and snow plow drivers. And, this year, there'll be techies keeping their fingers crossed when computers roll over to the year 2000.
Maybe you're one of those folks who will be on the clock over the holidays. Maybe you're the couple who Cunard chose to glide across a dance floor somewhere in the middle of the Caribbean Sea on new year's eve. The rest of us offer a salute. We'll try to remember -- as we wade through crowded airports to visit loved ones all over the world -- that you're still at the office.
{ View Index }