Gifts for the Savvy Traveler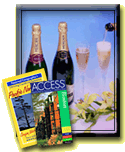 The December holiday countdown has begun, and I wanted to suggest the gift of...travel. I don't necessarily mean an airline ticket, though some advance-purchase fares cost less than many common home appliances!
There are other gifts, though. How about a guidebook or even coffee-table picture book about a place someone you know is visiting in the new year? Or has always wanted to go to. Am I the only one who loves a big atlas? Maybe a subscription to a travel magazine such as Condé Nast
Other ideas: A year's membership in an airline airport lounge system for a harried business traveler. Or you can arrange for a bottle of champagne or a plate of chocolate-covered strawberries to be waiting in a hotel room when a friend checks in. Just call their hotel, charge it to your credit card, and the hotel will happily include a personal note from you.
Let your imagination roam, and you can probably think of a few travel-related gifts of your own. Often unexpected, often unusual, they can have several meanings to a recipient. Like: "Come visit me." Or, "Go, follow your dreams."
{ View Index }