The Ghost of Road Trips Past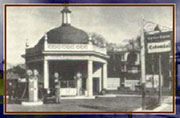 One of the advantages of living in Washington, D.C, is the selection of museums. Like right now, I can hop a subway to the National Building Museum and see an original Holiday Inn room with avocado-colored steel furniture. At the time, that was considered a big step up from another popular chain, Wigwam Courts, that featured cabins meant to replicate Sioux teepees.
It's all part of an exhibit called "See the U.S.A.: Automobile Travel and the American Landscape." It focuses on three important parts of every road trip: gas, food, and lodging. In all three categories, you'll find what today ranks as classic kitsch: gas stations designed to resemble Greek temples, restaurants shaped like cider barrels, and motels that looked like flying saucers. You know, things were a lot more interesting before interstates. Though they had their moments, too -- as a kid, my heart would always leap when I'd see an interchange exit with that distinctive Howard Johnson's roof. I don't know where they got orange paint that bright, but I knew it meant I wasn't far from a banana ice cream cone.
If you're driving this Thanksgiving holiday, keep an eye out for ghosts of America's past on its back roads.
Savvy Resources:
The National Building Museum

{ View Index }