Time Flies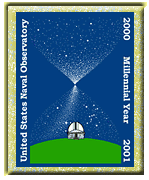 One of the prettiest drives in the nation's capital is Embassy Row, a stretch along Massachusetts Avenue in upper northwest Washington. Magnificent mansions, a lot of them foreign embassies, line the four-lane avenue. Old oaks and maples shade the street, and from spring until winter, daffodils, tulips and azaleas seem to bloom everywhere. The vice president's house is perched on a hill there, too, with a grand sweep of a lawn leading down to the street.
But a few weeks ago, Massachusetts Avenue lost some of its luster for me. You see, the Naval Observatory is also there, and that's where the official time for the country is kept. Well, someone there got the bright idea to put up an electric, digital clock that ticks off the seconds until the end of the year. I don't know about you, but I don't much like to watch time tick away. It goes by fast enough. I don't need to be reminded that another year is only sixty-some days and however-many-seconds away from ending. Everyone I know agrees: "It depresses me," says my friend Lesley. And she's almost 20 years younger than I am!
So if you're visiting your nation's capital sometime in the next 60 days, try to avoid Massachusetts Avenue up around where the Gore family lives. Because if you're worried that time flies...the proof is right there in their front yard.
{ View Index }