Halloween: The Harbinger of Winter's Calm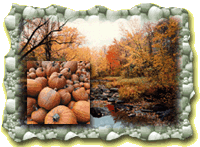 It's not the pumpkins or gremlins or costumes I like most about Halloween. It's the undeniable signal -- at least where I live in the Northeast -- that fall is on the down slope toward winter. Sweaters come out of closets, mums have replaced geraniums, and this year, in the Washington, D.C. area, leaves are at their peak this weekend.
I say it's time to go outside. I've got a quote from the naturalist John Muir on my bulletin board. "Climb the mountains and get their good tidings. Nature's peace will flow into you as sunshine into flowers. The winds will blow their freshness into you, and the storms their energy, and cares will drop off like autumn leaves."
Mr. Muir must have been thinking about fall when he wrote that. He also must have been in a pretty darn good mood. So amidst this weekend's harvest of candy corn and Hershey's Kisses, take the time to mark the season. Even if you're not climbing some mountain, a simple walk around a new neighborhood might do wonders for your spirit. Just mind the hobgoblins...and werewolves.
{ View Index }