Shopping in the Big Apple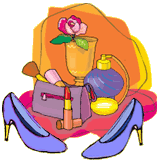 Boy, I feel like I traveled the world last week, even though I never left New York City. I went shopping for two days with my daughter, who lives in Manhattan, and two friends.
Listen, I was married for 15 years, so I'm no stranger to women's shoe stores. But downtown, on Eighth Street, the three women and I hit nine stores in an hour -- a new personal best. In crowded discount stores, with people speaking Spanish, French, and Italian all around us, the women tried on and bought shoes designed in France, Italy, and Germany. Now, the only thing I know for sure about women and men is that men should never rush women when the subject is shoes. And that's all I'm going to say about that.
But what really knocked me out were the cosmetics. My girlfriend was thrilled to buy some kind of fragrant facial cleanser from Australia. Do we really need to import cleanser all the way from Melbourne? I guess for a country that ships in boatloads of spring water from France, Italy and Fiji, well, it's no big deal. The second day turned up some vials of stuff from, said the box -- the biodynamic gardens of the village of Eckwalden, Germany. It was an organic thing called "eye solace." You soak a cotton pad with this elixir, place it on your eyelids for 10 minutes, and apparently life is much better afterwards.
Think about it -- from Melbourne to Germany with no jet lag. I used to feel vaguely guilty when I traveled overseas and saw American exports like McDonalds and Disney and "Die Hard 2." Not any more.
{ View Index }