The Future of Travel Agents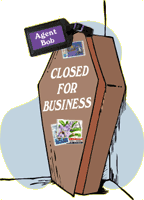 Well, the airlines keep whacking away at travel agents. Once, an agent could earn a 12 percent commission for issuing an international ticket; now it's only five percent, and even that commission can't exceed $100. You know what this means? Your travel agent may disappear.
Now, the airlines will be happy to have you book all your travel through their 800 numbers. But as I've often said, when have you ever heard an airline reservation agent say, "Hey, wait a minute! You can get a cheaper fare on our competitor!" Exactly never. So without travel agents, you and I lose the easiest way to comparison shop.
Now you can compare prices online. Unlike an airline employee, an airline Web site will usually tell you if a competitor is offering a cheaper fare. But can we trust them to do that without bias forever? And, besides, not everyone has access to a computer or the patience to navigate several Web sites. A good travel agent can often save you money, especially on complicated itineraries. If yours starts charging a fee to sell you airline tickets, it's probably worth it. Otherwise, our travel agents could eventually go the way of blacksmiths.
{ View Index }