Humbled by a Hurricane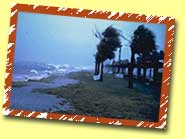 As I watched the news track Hurricane Floyd this past week, I kept thinking of something the writer Paul Theroux once told me. There's a certain hubris, he said, to building a home on the water's edge. It's as if you're tempting the gods, leading with your chin and daring the enormous powers of weather to hit you.
Now, understand, he's a guy who loves a coastline. He lives part of the year on Oahu's North Coast in Hawaii and part of the year on Cape Cod. But even though his passion is kayaking, both of his homes are well-removed from the water. Of course, many of the homes battered by Floyd weren't on beach front property. But even before the hurricane made landfall, the news featured footage of enormous waves lashing beaches, piers, and anything unlucky enough to have been built too close to the ocean.
It was a miserable week for travelers to the southeast, as well. Nothing like a hurricane to remind us that all our computers and sophisticated jets can't win a wrestling match with Mother Nature. And the interstate highways choked with residents trying to beat the storm were also reminders that we aren't necessarily in control even on the ground. That terra firma isn't so firm if the wind is blowing at 150 miles per hour. Our thoughts and hearts go out to those who this week found themselves running ahead of the clouds, wind and rain that announced the imminent arrival of a hurricane with the innocuous-sounding name of...Floyd.
{ View Index }