Celebrating the Harvest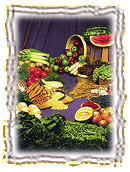 As a city boy, I tend to think of America in terms of its cities. When I think of American exports, I think of computer software, Boeing jets, Levis, McDonald's, records and movies. I also tend to take aisle seats on planes because I like the elbow room, so I rarely get the chance to look out the window at the farms and fields of this country.
But after a week in California, I'm reminded of the natural fertility of this land. In Washington, D.C., we tend to consider California as a ripe place for political fund raising -- campaigns harvest cash from the software millionaires of Silicon Valley in the north to the movie industry people south in Los Angeles. But in between is a rich, agricultural cornucopia -- miles of fruit and vegetable farms.
I marked the end of summer by spending Labor Day weekend in Sonoma Valley where the change of seasons means it's time to harvest grapes. In a 25-mile swath of that valley, 13,000 acres of some of the best wine-growing grapes in the world bask in a Mediterranean climate. The local markets overflow with fat strawberries and a dozen varieties of lettuce. Near San Francisco, towns celebrate their crops of garlic and artichokes with annual festivals. How does garlic ice cream sound to you?
OK, that doesn't move me, either. But I love stopping in farmers' markets and trying out the local produce. It makes me feel connected to the place I'm visiting. And when the cold of winter hits Washington, I'll have a couple bottles of Sonoma wine to help keep me warm.
{ View Index }