Carpe Diem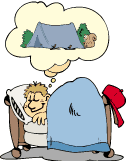 Have you ever visited some place so wonderful that you've vowed to return every year? To bring your family, friends, and even future loved ones? Sixteen years ago, I took a friend of mine named Mo to Europe for his first visit. He made that promise, but he's never kept it. And it bothers him. He swore he'd return with his son and daughter and mother. His mother is no longer with us, and his son and daughter are adults living on their own now.
Blame it on economics, job pressures...but then, I think about all the dumb things I've spent my money--and time--on.You've heard that old saying about whether, at the end of it all, would you rather have spent more time at the office or more time with your family?
Well, I've heard this so often lately I'm beginning to think I may be closer to the end of my life than I realize. But never mind--the point is well taken. So if you haven't been to that place you always vowed to return to, maybe it's time to start that dream fund. Maybe this is the weekend not to go to the office.
{ View Index }