Starry Night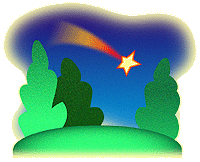 On Monday night, my son and I stretched out on chaise lounges in the backyard of a friend's house and watched the stars fall on East Hampton. It was a clear night, and every couple of minutes, a shooting star streaked across New York's inky sky.
There are a lot of stars in East Hampton during the day, as well. This lush, lovely playground boasts in residence Steven Spielberg, Billy Joel, and literally hundreds of other well-known actors, writers, and financiers. I was a bit disconcerted my first night out to dinner to see actor Roy Scheider, the sheriff in the original Jaws. He has a house here by the ocean. And the next day, floating in the Atlantic with my son, I hoped Jaws didn't have any offspring cruising offshore, intent on revenge.
With lobster salad going for $48 per pound at Sagaponak's favorite take-out place, Loaves and Fishes, we opted to cook out at home. But despite the prices, I understand the lure of the place. The Hamptons are truly beautiful, all wide sand dunes, flowers, and swans. And the shooting stars are free.
{ View Index }