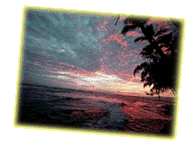 The Call of Parrot Cay
I'd forgotten how many different shades of blue and green there were until last weekend when I watched the sun set on an expanse of the Caribbean. I was on Parrot Cay, one of the islands of the Turks and Caicos in the British West Indies. From my porch on the only hotel on the island, I sat for a full half hour and watched the sun play over the emerald and turquoise water below me. Now, you have to understand--I never sit anywhere and stare at anything for half an hour. I usually need to be reading something or talking on a phone.
Maybe it was the yoga class I'd taken earlier that day. Maybe it was the silence of an island with no cars--you reach Parrot Cay only after a half-hour boat ride from the main island of Providenciales. I was on a small hill that gave me a panoramic view of the translucent water. I couldn't hear the small waves that lapped the sugary sand on the beach--only the soft rustle of palm trees in the breeze. I was there with my daughter, who later asked me what life would be like if these were the colors of our lives all the time. The blues and the greens . . . the white of sand and the brilliant reds and oranges of bougainvillea?
She lives in New York City, I live in Washington, D.C. Lots of browns and grays in cities. How would our lives be different? I don't know, but if this millennium thing turns out badly, I know an island that's calling my name.
{ View Index }