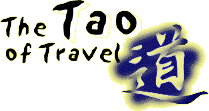 One amazing summer about 16 years ago, I took my friend Mo to a backgammon tournament in Monte Carlo. It was his first time in Europe, and after the games, we planned to spend a week driving around Italy and Switzerland. But first, we stopped to see some friends nearby on Cap d'Antibbes. We had lunch by the pool at their hotel and started playing backgammon. Before you knew it, the week was over.
Now, some would say that Mo got cheated out of Italy and Switzerland. He'd say, no, he got to know the south of France. That he ate every night in a splendid restaurant. And since he was a restaurateur himself, he couldn't have been happier. After dinner, he'd hang around the hotel bar with another guest named Bill Cosby who couldn't believe grown men could spend so much time throwing dice around a little board.
Ask Mo today, and he'll tell you it was the best trip of his life. It was an argument to stay flexible while traveling, to follow your instincts as much as an itinerary. If you're planning on hitting the road soon, remember the advice of the famous Chinese spiritualist, Lao Tzu: "A good traveler has no fixed plans, and is not intent on arriving." Lao Tzu, the Savvy Traveler of the first century.
{ View Index }