A woman I know boarded a plane this week in a total funk. Her love life was going badly, and she had to go on a business trip she didn't much want to take. Her eyes were red from crying. Her mood wasn't improved when a man sitting next to her commented on the book she brought, a self-help volume called The Road Less Traveled.
"Why are you reading that?" he asked her.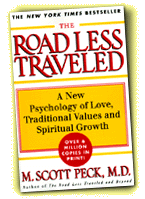 Tired and irritated, she said, "Because my life is a mess, and I want to find some reason not to wish I were dead."
Turns out her seatmate was a metaphysical therapist, and he offered some help. She told him not to bother, but they wound up talking for three hours, anyway. He addressed her despondency in a way that had never occurred to her. By the time they arrived at their destination, my friend got off the plane filled with hope and feeling a whole lot better than when she'd gotten on.
Not bad for a $99 ticket - a flight and her own therapist, too. She didn't get his name, he didn't get hers. It was another of those random, mile-high meetings, two passengers who may never see each other again, but who seemed fated to connect on that day. I bet it's happened to you. If it has, chalk it up to another small miracle of...travel.
{ View Index }